Our leadership team is the driving force behind our successful operations. Their enormous experience and vision has led many startups and small businesses achieve their goals. They are motivated to help many other businesses achieve their goals.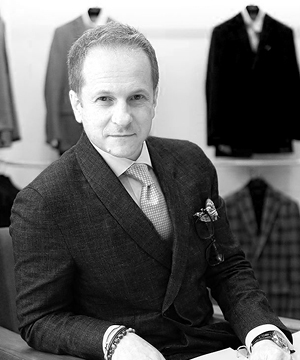 Konstantine Malishevski, an authority in fashion manufacture and retail, has a rich heritage as a fourth generation tailor. He was introduced to the industry as a teenager through his grandmother, a couture seamstress. Her creations were featured at the National Exhibition in Odessa, Ukraine, and Moscow's VDNH National Exhibition Center.
Following formal collage training and a period as an apprentice tailor to several fashion house masters, Konstantine opened his own hand-tailored brand in the early Nineties. In 1992 he relocated to Canada where he moved into the fashion manufacturing sector. During this time, he accumulated a versatile set of qualifications while holding a number of senior management and technical positions. In these roles he expanded his considerable experience in fashion manufacturing into fashion retailing. He was responsible for sourcing, developing and assisting in the growth of a number of international brands into the Canadian market. These included the likes of Haggar, Perry Ellis, Corneliani, Giorgio G (by Giorgio Gucci), Holland Esq., David Mayer Naman and others.
In 2004 he founded the Malishevski Group, a fashion manufacturing consultancy practice. The group specializes in retail and manufacturing strategies, product development and procurement, marketing and branding, and developing new businesses. 
With more than three decades of experience in the fashion retail and manufacturing sector, Konstantine offers a unique blend of leadership, vision and knowledge. He is a powerful business driver. His entrepreneurial instincts, in-depth industry experience and exceptional negotiating skills have successfully brought new fashion enterprises to market, leading to rapid and continuous growth.
Konstantine is recognised for his passion for business, his focus on collaborative team-building and his hands-on approach to technical challenges related to fashion manufacturing and retailing. He has a creative eye for sophisticated style and detail, and is committed to meeting and exceeding customer and market demands. He has a proven ability to connect both manufacturers and retailers to provide solutions and help grow businesses on both sides.
Konstantine has worked with a number of sports and entertainment celebrities and his garments have been worn at various celebrity events from television productions to the Oscars. These creations have received tributes in various media, while Konstantine has been interviewed on both television and in mainstream media.
In his spare time Konstantine enjoys playing assorted musical instruments, gourmet cooking and photography, amongst other hobbies.
Regional Marketing & Business Development Partner
Daniela Tuccino is regional marketing and business development partner for the company's Italian practice. An International Relations graduate of the renowned University L'Orientale of Naples, Daniela began her career as an assistant in the public events industry. She subsequently moved into a senior management role responsible for managing Italian and international clients. After coordinating a number of fashion-related shows and exhibits, Daniela discovered that her true calling was in fact, in the world of luxury apparel and accessories.
In 2016, Daniela moved to Canada and studied Fashion Management at George Brown College in Toronto. Following her graduation, she continued to cultivate her interest in the industry by working as a consultant for Inditex prior to joining the Malishevski Group as an international project manager, assisting with brand enhancement, packaging and corporate identities.
After moving back to Italy, Daniela assumed her current role and is actively involved with helping to plan and execute the creative vision of the group's clients. Her multinational experience allows her to provide strategic advice on innovative directions, market scenarios and connecting clients with their target markets.
You deserve knowledgeable & honest experts
40 years of industry experience